Moderator: Board of Directors
See you in the air, Rostic!
---
Hi Rostic!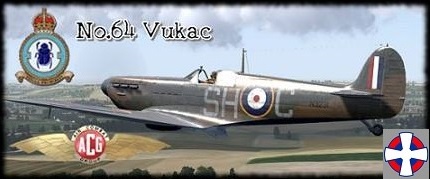 "Ideals are peaceful. History is violent."
---
Welcome to ACG Rostic!
---
---
Hei Rostic,

Good to have you around. Nice flying with you during the last mission.
Fractal Design Define R6 / Gigabyte Z390 AORUS MASTER / Intel i9-9900K / 32 GB RAM / NVIDIA GeForce GTX2080Ti / WD Black SN750 / Corsair Hydro H100i RGB Platinum / Corsair RM850x / WINDOWS 10 / LG 42LE5300 / TrackIR / HP Reverb G2 / Saitek AV8R-MK3 / Saitek ProFlight Throttle Quadrant / Saitek ProFlight Rudder Paddels / Saitek ProFlight Cessna Trim Wheel
---
Great having you for todays mission Rostic, was fun.
Gelobt sei, was hart macht.
---
Thank you guys for such warm welcome. It was pleasure to fly with you. I hope that I will have enough time to fly all next campaigns
Intel Core i7 8700K 3.7Ghz, DDR4 16Gb 2666Mhz, Asus Prime Z370-A, ADATA XPG SX8200 240Gb (PCIe Gen3x4), RTX 2060 6Gb
---
Great to have you with us buddy!
---
Hi looking to join in the campaign on Sunday, thanks Rob
---
Hi Rob

Good stuff, our mission starts at 7pm sunday so if you can connect to our teamspeak before then we can get you with a squadron for the mission.

Any preference on Allied or Axis, fighters or bombers?
---